Back
Hedera (HBAR) – A Faster, More Secure Blockchain Consensus
22.06.2022
Blockchain Tech Keeps Getting Better
The most used enterprise-grade public network is breaking new ground. Whether you're a startup or enterprise, a creator or consumer, Hedera goes beyond blockchain for developers to create the next era of fast, fair, and secure applications. Hedera is a 3rd generation public ledger and is 10x faster than other blockchain alternatives. Equally important is the fact that the network has a carbon negative output.
The Hedera Proof-of-Stake (PoS) public network, powered by hashgraph consensus, achieves the highest-grade of security possible (ABFT), with blazing-fast transaction speeds and incredibly low bandwidth consumption. By combining high-throughput, low fees, and finality in seconds, Hedera leads the way for the future of public ledgers.
Week 4 of 15 Weeks of Summer Campaign features HBAR – the native, energy-efficient cryptocurrency of Hedera that powers the decentralized economy. Let's find out why companies like Google, IBM and Ubisoft favor Hedera and are involved in the governance process.
Hedera Hashgraph Network
Hedera Hashgraph was founded by Leemon Baird and Mance Harmon and was launched in September 2019, after having a successful initial coin offering (ICO) a year before. HBAR is its native utility token, which serves a dual role within Hedera's network.
Hedera makes use of the Hashgraph consensus, which aims to be a faster, more secure alternative to the blockchain consensus mechanism.
How is Hedera different? Due to its unique nature, it differs from other blockchain networks in the way that every container of transactions is incorporated into the ledger. On the other blockchains, if two blocks are created at the same time, the network nodes will eventually choose one chain to continue and discard the other ones. With Hashgraph, all the branches exist forever and are woven into one single whole.
Hedera is an open source, Proof-of-Stake network for building and deploying decentralized applications. It offers developers three main services:
Solidity based smart contracts: an object oriented language for implementing smart contracts.
Consensus: mechanisms that refers to methodologies used to achieve agreement, trust and security.
Token services: various services offered, such as the ability to perform configuration, minting and managing of fungible and non-fungible tokens.
Due to its low bandwidth consumption, it is more efficient than Bitcoin or Ethereum. The highest standard of security is ensured to prevent malicious attacks, by using aBFT (asynchronous Byzantine Fault Tolerance), a mathematically highest possible level of security for distributed systems. With 10,000+ transactions per second, it's an efficient and fast way to transmit data across the network.
Hedera is a public ledger, a database that everyone can read from and write to. Each node stores a copy of the ledger. The network is comprised of consensus and mirror nodes, of which the consensus nodes will become permissionless in the future.
Both the algorithm and Hedera's implementation aim to be open source under the Apache 2.0 license in 2022.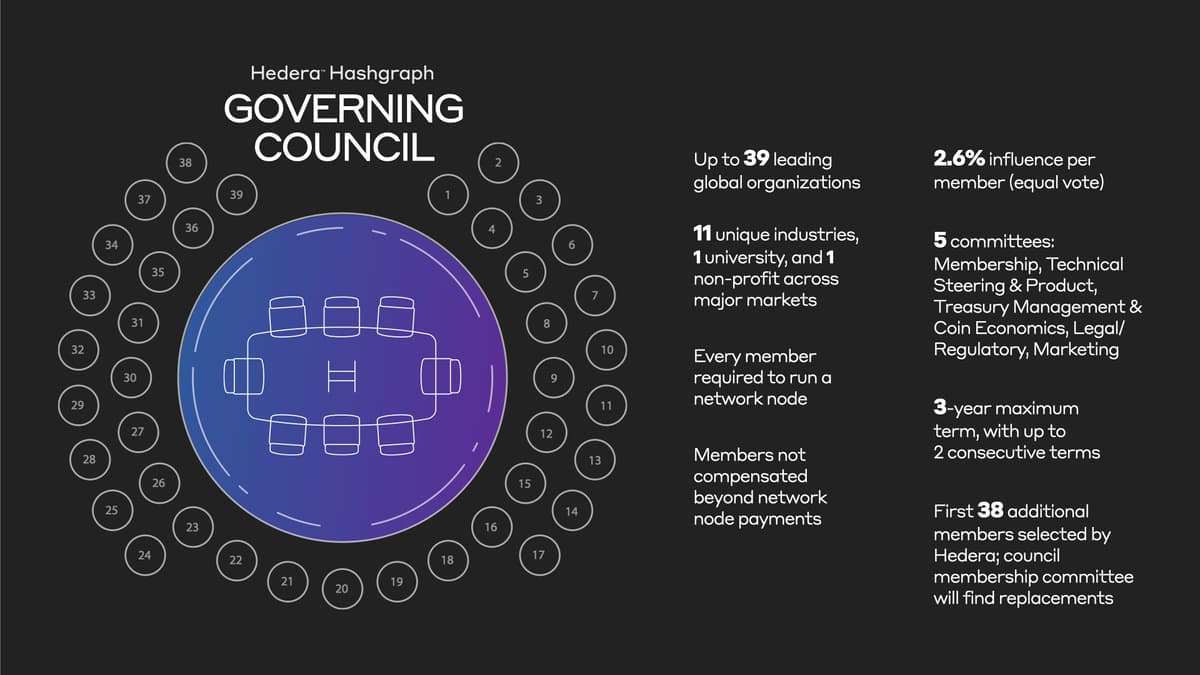 Fully Decentralized Governance – A Future Built on Trust
Hedera offers a unique way of governance through the Hedera Governance Council. A council consisting of 39 organizations across 11 different industries around the world – among which – Google, Ubisoft, Deutsche Telekom, IBM, Boeing, are just a few. It is completely decentralized, every member having an equal vote over software upgrades, network pricing, treasury management and more.
The network is structured in a way to ensure its long term success and all members have taken partial ownership of Hedera LLC. Within 30 days of every council meeting and acceptance of a majority of council members, the reports are provided to the public to ensure transparency.
HBAR – An Essential Blockchain Token
Let's find out more about Hedera's native token – HBAR – now trading on Coinmetro exchange. As the utility token of the Hedera network, HBAR is used to power decentralized applications and protect the network from malicious actors. HBAR is used to pay for a variety of network services like transferring HBAR, managing tokens and logging data. To compensate for nodes, bandwidth, computational power and storage, HBAR is used for transactions submitted to the network.
To ensure network protection, Hedera's network uses HBAR, which is staked to a node to weigh votes on transactions when reaching consensus. Because of the weighted votes, it is difficult for a bad actor to affect consensus.
HBAR has a maximum total supply of 50 billion units. Today, more than 21 billion are in circulation.
Tools and Assets for the Smart Portfolio
As promised, our 15 Weeks of Summer campaign is marching on in full swing. Week 4 is bringing another innovation that is already shaping the blockchain space for the better. And it can do the same to your portfolio.
As the markets continue their descent, the opportunity to buy valuable assets gets bigger and bigger. Our response to current market conditions is to offer people crypto assets and tools that are here to stay and making a difference in the crypto landscape. Tokens instrumental to the whole industry and will gain more and more traction in the near future. But when that future comes, will you be able to profit from the acquisitions made during the current bear market?
With all the pessimism around, smart investors are aware of the other side of the coin – that is – investing when the markets are down and taking advantage of low prices. What's your investment strategy for the current bear market? On what side of the coin are you?
Join the discussion on the ever-growing Coinmetro community on Discord and Telegram to stay up to date with the latest crypto developments, learn and exchange ideas with like-minded people. To invest in HBAR and other essential tokens, take action now and sign up to our platform in just a few steps!