XCM Staking Multi-Asset Rewards (MARs)
We first launched XCM Staking in 2021, and have continued to increase its power with additional passive income flows.
Our XCM Staking Program has seen incredible success with more than 25% of the circulating supply being staked. The service aims to empower our customers to earn passive income and become an integral part of Coinmetro's ever-expanding ecosystem.
XCM Staking: The Basics
Our current staking program provides loyal XCM holders with benefits like fee rebates and bonuses as well as a passive income stream, paid in XCM and other assets on a daily basis.
You can stake a minimum of 100 XCM and a maximum of 1,000,000 XCM per account currently. There are four staking durations you can select: 1, 3, 6 & 12 months. This means you can choose how long you stake your XCM.
APR is based on both the amount staked and the duration. Staking a larger amount of XCM for a longer duration will provide higher rewards. You can see how this works in the table below: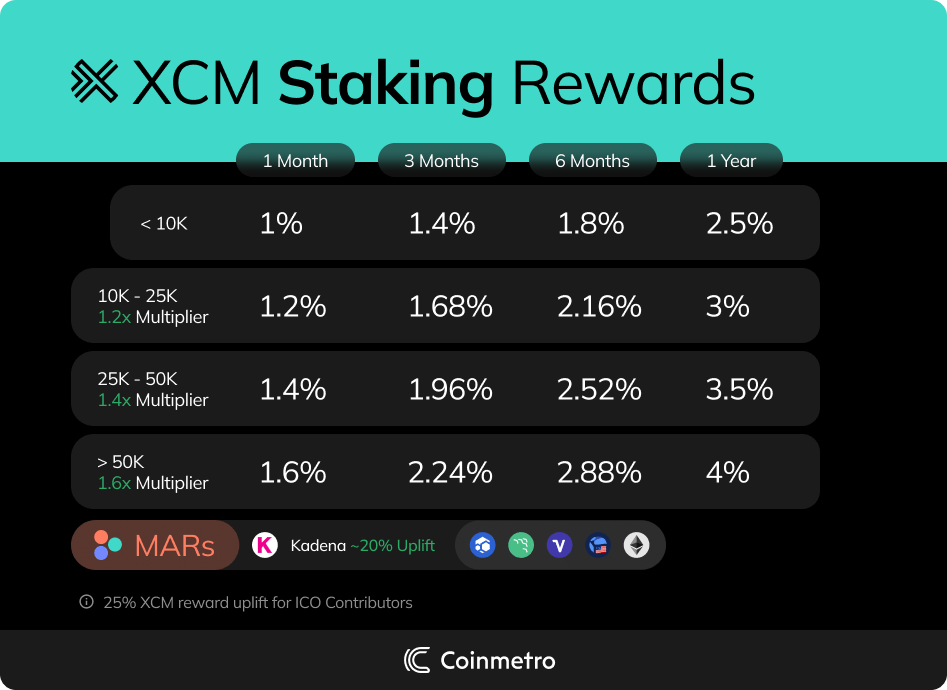 What are XCM Multi-Asset Rewards?
All XCM Stakers will receive additional "bonus" tokens starting with KDA (Kadena).We'll add FLUX (FLUX), THT (ThoughtAI) and VSP (Vesper Finance) in the short-term, with many more coming soon thereafter.

How are MARs Calculated?
XCM Stakers will now see KDA and other assets as a "Bonus" on the XCM Staking page. The "Bonus" tokens are currently paid in KDA but we will add others to this mix throughout time.
There are no gas fees at all with Coinmetro MARs, as the cashout or claiming of rewards is off-chain. This also means you get your rewards instantly and can sell/trade or withdraw them. You could even stake them!
How do we arrive at the figure?
Coinmetro shares revenues generated from offering staking programs on other assets.
Stake more XCM, get more XCM in return plus a larger share of Multi-Asset Rewards.
Example:
If Coinmetro generates 100,000 KDA in March from the KDA Staking program and pays out 80,000 KDA to those staking KDA, Coinmetro would have 20,000 KDA in the company treasury.
Coinmetro is sharing its success with those staking XCM, by sharing a % of these KDA coins proportionally to users based on how much XCM they are staking.
If you stake 10,000 XCM and there is a total of 1mil XCM staked, then you would own 1% of the pool. This means that if we share 10% of the KDA which came to the treasury, 2,000 KDA would be split up proportionally and you would get 1% or 20 KDA paid as a bonus during March.
Why is someone else getting a different bonus %
If you have spoken with another community member and established that your KDA bonus % is different, this does not mean you are earning less KDA. It indicates that one of you may simply be in another tier or are an ICO contributor, earning a different % APR of XCM. The timeframe you are staking XCM can also impact the way the bonus % appears.
KDA and other bonuses do not consider the APR you earn on XCM, we pay an equal bonus to everyone and the only factor to determine how much you earn is based on the amount of XCM you have staked as the KDA and other bonuses are split proportionally between everyone staking XCM.
There's more! Let's talk about fee rebates…
XCM Fee Rebates System
Staking XCM can gain you access to earn rebates on fees paid across Coinmetro products and services. With the rebates system, you can earn up to 50% of your trading fees back, paid in XCM.

To unlock rebates, you must be staking at least 10,000 XCM. There are three tiers to which you can gain access and they offer various levels of fee rebates:

Tier 1 – 10,000 – 24,999 XCM

Tier 2 – 25,000 – 50,000 XCM

Tier 3 – 50,000+ XCM

In short, staking provides Coinmetro traders with tons of benefits, rebates, bonuses, and of course, passive income. It allows our community to become a real part of the Coinmetro ecosystem, support the exchange, & facilitate growth.

You can choose your own plan to fit your financial goals. We've made the process very simple. All you need to do is pick the amount of XCM you want to stake as well as the staking duration.

Any questions? Join our Official Telegram Community, our Official Discord or chat with our 24/7 LIVE Support Team at Coinmetro.com.

0
Related Articles
Product update - June 2023
It's the beginning of summer, but we're not slowing down here at Coinmetro. We've got another exciting monthly Product Update for you. Let's dive…
What Are Altcoins? Exploring Alternative Cryptocurrencies
Altcoins encompass a vast collection of digital currencies that have emerged alongside Bitcoin, the pioneering cryptocurrency. While altcoins share…
Coinmetro's visual makeover: new look, new website, same platform you trust
Since day one, we have been driven by a single vision - to make the world of finance accessible and transparent for people globally. Thousands of you…
Major APR Increase for FLUX Staking
More good news is on the way! Starting from May 1, 2023, you can enjoy increased APR for staking FLUX at Coinmetro. At the moment, Flux is one of the…