We've already came so far this year, but there's MUCH more on the way in the final stretch of 2021! Major updates are arriving to the CoinMetro platform. The whole team is very excited and we can't wait to show our growing community!
Introducing the CoinMetro Q4 Roadmap!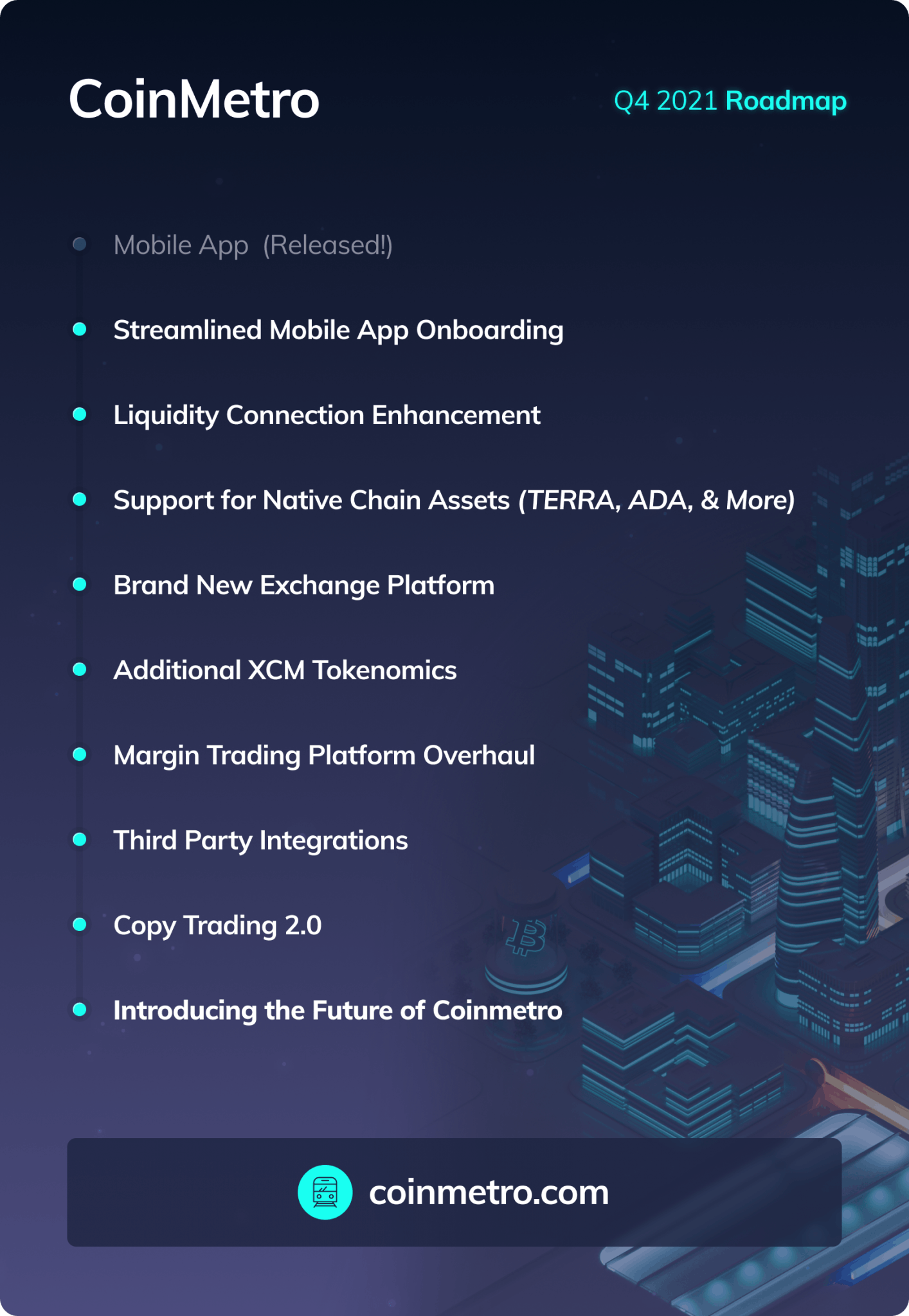 Major Platform Overhaul
You can expect to see some major visual overhauls with the CoinMetro Exchange. Once we deliver the new Exchange, we believe our users will see the huge difference in quality. This will set the tone for the future. You can expect to see Margin Trading, Copy Trading, & Mobile App also receive major visual updates during this quarter.
We're redesigning the entire platform with a focus on improving the user experience. We have a talented design department who are delivering an industry leading design, experience, and support. With our growing frontend development team and active approach to gathering and responding to client feedback, we are confident in establishing ourselves firmly in the industry.
Our exchange already has many features that are missing from the leading providers. For example, editing an open order in the interface (both the size and price of a limit order) is still not possible on many of the worlds largest exchanges. The new platform overhaul will enable everyone of all experience levels to confidently harness advanced features with ease and customize the platform to their needs and interests. We have also ensured that data is clear and readable, and can be viewed in a meaningful way, such as showing cumulative orders in the book.
Listings & Liquidity
As you would expect, we are continuing our efforts to list to list many new and exciting tokens. And of course, more fiat gateways. Q3 saw some great new assets arriving on CoinMetro, with lot of value for users, with LUNA listing at under €5 and seeing highs of €35+. Not only are we looking to add ERC20 tokens, which is considerably easier than native tokens… but we will now also be pursuing some native chain listings, such as TERRA, which will allow our users to participate in the ecosystem with LUNA and UST which are currently listed as ERC20 variants. We are eyeing up a Cardano (ADA) listing within this quarter and others are on the horizon.
In order to ensure there is a great trading experience of all newly listed assets and our wide range of current listings, we are working on an enhanced connection for liquidity, this will bring further depth and tighter spreads. This improvement is a continuous work in progress and will never end for us as an exchange, however, this should be a very noticeable step forward.
There's also a new third party integration on the way. This will reduce gas fees and improve the speed of deposits/withdrawals across all listed assets at CoinMetro. We'll reduce our costs and be able to offer an even more reliable service.
Brand Refresh
Everything from color palette to typography… we are working on it! Q4 will be packed with visual changes. You'll start to see exciting new visual assets appearing on the platform. New web pages within the early stages of Q4, as well. Our visual identity is maturing. A more seamless experience is coming. Our comprehensive suite of services at CoinMetro will have a consistent design throughout.
This new, extremely modern & clean feel at CoinMetro will better reflect our vision for the future of finance and our company values.
Here are a couple notes directly from the design team which give you an idea of the inspiration behind our new direction:
Our users should feel at home when using CoinMetro, once they know what they want to do, they should be able to simply do it without any thought about how to do it.
The platform should be Intuitive, cohesive, modern, extensible and highly competitive.
Focus on XCM
We will be producing educational content around our native utility token. This would include a dedicated destination that goes into more depth on the full power of XCM. More to come! 🔥

We appreciate you all joining us on this amazing journey! If you are not already using CoinMetro, make sure you signup now.

0
Related Articles
Product update - June 2023
It's the beginning of summer, but we're not slowing down here at Coinmetro. We've got another exciting monthly Product Update for you. Let's dive…
What Are Altcoins? Exploring Alternative Cryptocurrencies
Altcoins encompass a vast collection of digital currencies that have emerged alongside Bitcoin, the pioneering cryptocurrency. While altcoins share…
Coinmetro's visual makeover: new look, new website, same platform you trust
Since day one, we have been driven by a single vision - to make the world of finance accessible and transparent for people globally. Thousands of you…
Major APR Increase for FLUX Staking
More good news is on the way! Starting from May 1, 2023, you can enjoy increased APR for staking FLUX at Coinmetro. At the moment, Flux is one of the…