Earn passive income with XCM Staking and become an integral part of CoinMetro's ever expanding ecosystem!
The time has come for our native utility token. It's a big day and our team is really proud to see XCM & CoinMetro reach this milestone. We've created something great that's about to enter a new era!
What is XCM Staking?
Staking has always been a key piece of the puzzle since our original whitepaper. But we needed to build out the various parts of the platform, give the token utility, and reach a certain level of maturity before unleashing XCM Staking.
In short, staking provides CoinMetro traders with tons of benefits, rebates, bonuses, and of course, passive income. It allows our community to become a real part of the CoinMetro ecosystem, support the exchange, & facilitate growth.
You can choose your own plan to fit your financial goals. We've made the process very simple. All you need to do is pick the amount of XCM you want to stake, and the duration it will be staked.
Our easy-to-use interface provides a detailed summary of the selected plan which automatically updates as you make changes.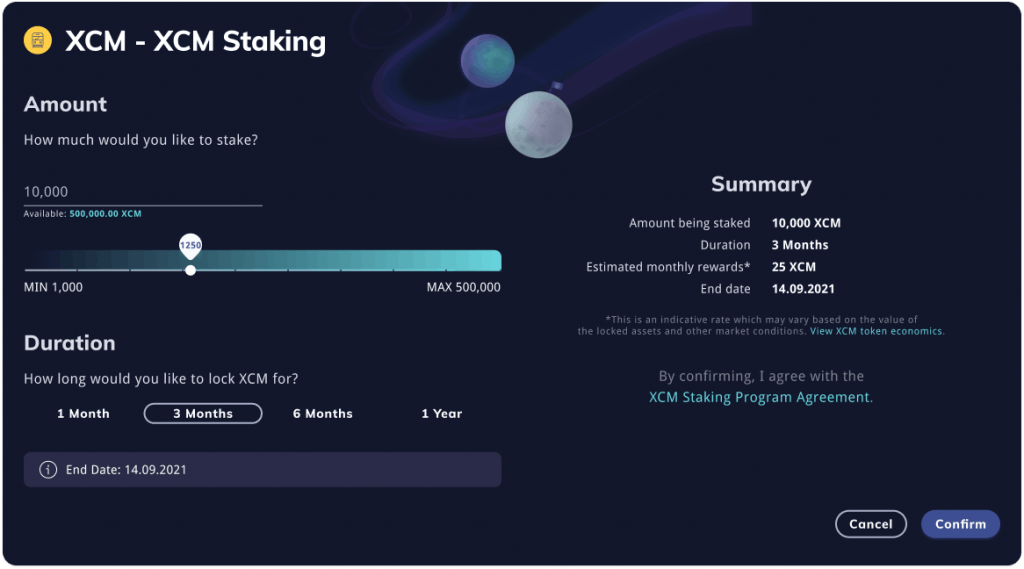 XCM Staking Rewards Explained
The exact percentage of rewards will depend on a few factors. A higher amount of XCM staked will earn more rewards, as well as a longer duration. Our loyal ICO members also get a boost as well. The table below is a great tool to help you decide how much XCM you need to meet your goals.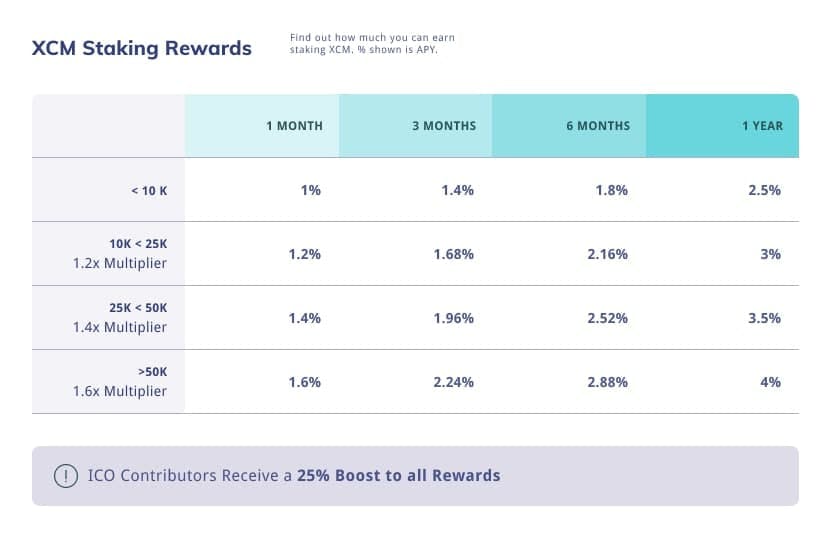 Traders at CoinMetro can earn a passive income of up to 5% interest with XCM Staking. Choosing a custom plan in which you stake more than50,000 XCM for one year will put you in the highest earning tier. 
XCM Rebates & Tiers
With the addition of staking, the previous rebate & tier system has been replaced. No longer is "locking" required to join one of the XCM rebate tiers. XCM Staking is how to earn trading rebates on CoinMetro. From a user's perspective, this new system is essentially the same it's always been. Except, of course, now you get paid a passive income! Check out the table below for the full details.

As you can see, the amount of XCM required for each tier remains the same at10,000 XCM for Tier One, 25,000 XCM for Tier Two, and 50,000 XCM for Tier Three. Joining one of the Rebate Tiers unlocks rebates as well as other benefits traders will find quite valuable in all parts of the CoinMetro ecosystem. For instance, you can make the lowest trading fees in crypto EVEN LOWER!Earn back as much as 20% of the fees you payin rebates. For a more thorough explanation of our Rebate & Tier system, read thishelp article.
Legacy XCM Rebate System
Good news! If you were already locking XCM as part of the Rebate System, it's been automatically migrated into a flexible staking plan. However, you can cancel that plan without penalty and start a new custom plan to your liking. 

0
Related Articles
Product update - June 2023
It's the beginning of summer, but we're not slowing down here at Coinmetro. We've got another exciting monthly Product Update for you. Let's dive…
What Are Altcoins? Exploring Alternative Cryptocurrencies
Altcoins encompass a vast collection of digital currencies that have emerged alongside Bitcoin, the pioneering cryptocurrency. While altcoins share…
Coinmetro's visual makeover: new look, new website, same platform you trust
Since day one, we have been driven by a single vision - to make the world of finance accessible and transparent for people globally. Thousands of you…
Major APR Increase for FLUX Staking
More good news is on the way! Starting from May 1, 2023, you can enjoy increased APR for staking FLUX at Coinmetro. At the moment, Flux is one of the…