Intro to FluxNodes on Coinmetro
The Flux-Coinmetro partnership is launching a new collaboration with FluxNodes! We're creating a simple platform which allows us, and all of our users, to participate within the FLUX Ecosystem.
What is Flux?
The Flux Ecosystem is a suite of decentralized computing services, and blockchain-as-a-service (BCaaS) solutions. This ecosystem offers an interoperable, decentralized, AWS-like development environment. Flux utilizes a native Proof-of-Work coin, also named Flux, to power this ecosystem. The Flux token provides incentive for hardware hosters, on-chain governance, and even bad actor mitigation. Which is done via staking requirements for running hardware.
Alongside the native Flux coin are Flux "parallel assets". These assets are Flux coins issued as tokens on different DeFi protocols such as Kadena, Ethereum, & Tron. Parallel assets will be staggered over time. Additionally, native Flux holders seen by our snapshots will actually receive each new added parallel asset.
What are FluxNodes?
FluxNodes are incentivized, distributed, enterprise-grade computing nodes that power the whole BCaaS ecosystem. There are 3 different levels of FluxNodes with increasing amounts of collateral Flux and hardware requirements needed to join the network and receive rewards. On top of Flux coins, node operators receive distributions of coins from other projects that are using Flux infrastructure to quickly build out their own projects. For example, the top two tiers of FluxNodes also receive Kadena ($KDA) on top of the normal Flux rewards!
FluxOS is a second layer application running with Linux that benchmarks and verifies each node, performs load balancing & reverse proxying, builds the webGUI for node operators to more easily maintain their nodes, and orchestrates hundreds of Docker images to run smoothly on the network. 
FluxOS is written on the MEVN stack and is open source. (MEVN – MongoDB, Express, Vue.js, Node.js)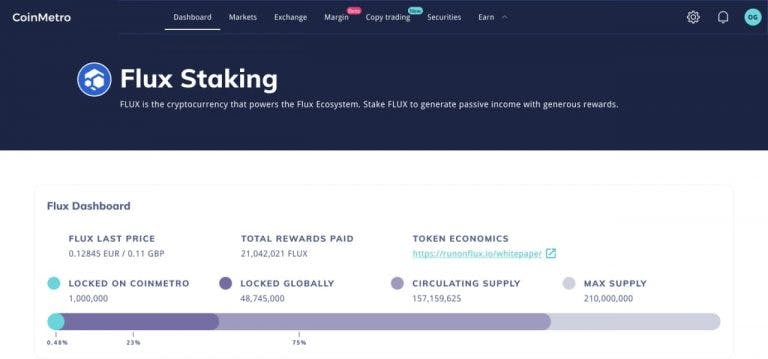 What do FluxNodes mean for Coinmetro?
So what exactly does this all mean for the Coinmetro community? Well, simply put, it means more opportunities to earn passive income! 

The introduction of FluxNodes to Coinmetro means that users will be able to stake their Flux & earn rewards! This is a deep integration which brings long-term benefits to all parties. As a company, we're here to bring high impact solutions to the crypto space. Usability & accessibility are at the forefront of our focus. 

Furthermore, Coinmetro has even more staking programs on the way! This includes KDA bonding as well as staking for our own native utility token, XCM. 

We hope you've learned a little more about this exciting Flux Ecosystem, and why bringing FluxNodes to Coinmetro is so cool! Join us on Telegram for more info. Or signup for an account today!

0
Related Articles
Product update - June 2023
It's the beginning of summer, but we're not slowing down here at Coinmetro. We've got another exciting monthly Product Update for you. Let's dive…
What Are Altcoins? Exploring Alternative Cryptocurrencies
Altcoins encompass a vast collection of digital currencies that have emerged alongside Bitcoin, the pioneering cryptocurrency. While altcoins share…
Coinmetro's visual makeover: new look, new website, same platform you trust
Since day one, we have been driven by a single vision - to make the world of finance accessible and transparent for people globally. Thousands of you…
Major APR Increase for FLUX Staking
More good news is on the way! Starting from May 1, 2023, you can enjoy increased APR for staking FLUX at Coinmetro. At the moment, Flux is one of the…