A Brand New Exchange: BETA Launch
CoinMetro is inviting YOU to try our new exchange beta! What does this mean? It means you get early access to a pre-release version of the platform to try under real conditions with real balances.
This Beta version has passed alpha testing in a closed testing environment internally, and we are happy to confirm it is ready for the general public! We're inviting those who are willing to help by trying it out. So please give us feedback on the look, feel and performance of this new direction for CoinMetro!
How to Give Feedback
You will be able to find the Beta Exchange under the "Exchange" dropdown in the navigation bar on desktop and side menu on mobile.
You are invited to our Beta Feedback Group on Telegram, where everyone can discuss ideas, report issues and provide feedback on our products & services. Users of all experience levels are welcome! We will support all comments and promote discussion to ensure we end up with a best-in-class platform. It will be better for us, better for you, and better for our entire community!
We are expecting the Exchange to be in Beta for around 2-4 weeks. We are 100% focused on quickly optimizing design and functionality based on the feedback of our community during this time. (We're also working on the Margin Trading platform as well!)
The CoinMetro Rebrand
There's a huge transformation happening behind the scenes. We're building an amazing new visual identity which will do our mature suite of financial products justice. We have been building out our range of products and services for nearly four years! During this time we have built some very impressive technology, but in order to make these services more accessible and usable, they must be exciting, engaging and highly functional.
The Beta Exchange is only the first step as we overhaul the entire platform. We are excited to have this available to show a glimpse of all the design work and development behind closed doors. We will be delivering many visual updates across the platform and website, everything from new buttons, colors and even a new logo!
The most logical place to start deploying the new design system is the Exchange, as this is the core service of CoinMetro which sits right on top of our matching engine, built entirely in-house! It's the heart of CoinMetro.
New Features & Highlights
Our all-new Order Form is now industry standard, making the placing of orders feel more natural and reliable. The new Order Book boasts updated icons, improved spacing, and a new degree of separation as it's been moved to the bottom of the form. Additionally, the Pair/Asset Discovery is fully overhauled to present our supported pairs, base assets, and favorites with much-improved experience.
We updated the interface typography to fit the new brand direction. Spacing of objects has been made more consistent separating categorized controls and information. Order details are now shown with a larger dialog displaying crucial information in an improved way.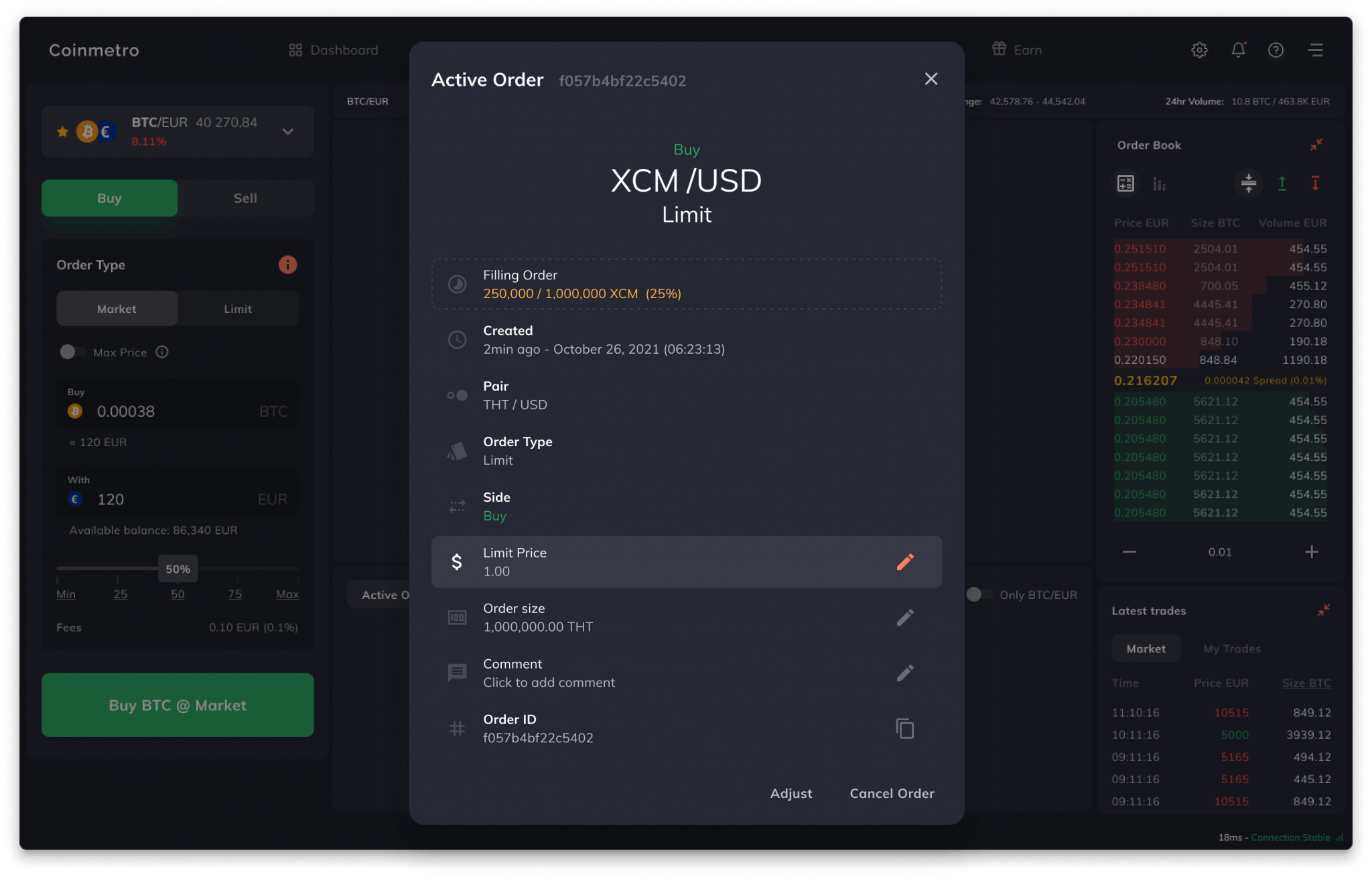 What to Expect Next
As mentioned previously, the Exchange will stay in Beta for 2-4 weeks while we collect feedback and quickly resolve any reported issues. After this time, the Beta tag and the old, "Classic" Exchange will be removed. PLUS… there will be even more surprises for the full launch! So make sure you're following all CoinMetro social channels.

0
Related Articles
Product update - June 2023
It's the beginning of summer, but we're not slowing down here at Coinmetro. We've got another exciting monthly Product Update for you. Let's dive…
What Are Altcoins? Exploring Alternative Cryptocurrencies
Altcoins encompass a vast collection of digital currencies that have emerged alongside Bitcoin, the pioneering cryptocurrency. While altcoins share…
Coinmetro's visual makeover: new look, new website, same platform you trust
Since day one, we have been driven by a single vision - to make the world of finance accessible and transparent for people globally. Thousands of you…
Major APR Increase for FLUX Staking
More good news is on the way! Starting from May 1, 2023, you can enjoy increased APR for staking FLUX at Coinmetro. At the moment, Flux is one of the…