CoinMetro Exchange: Q1 Roadmap 2021
We Grew 20x in 2020!
We ended 2020 on a major high with massive growth numbers all round. From January to December our volume grew 30x, signups grew 12x and our revenue grew a huge 20x.

Based on feedback we receive from new clients, CoinMetro is a very easy to use and reliable platform with low fees and amazing 24/7 live support. There are still many ways we can look to improve the overall UI, but the progress during last year was incredible. Our goal is to be the best crypto exchange, with the greatest user experience.
We were able to introduce instant USD, EUR and GBP support, additional XCM use cases and Europe's first end-to-end tokenized securities platform in 2020, this was a major catalyst for our growth and revenue increase, as we remain well poised for similar growth in 2021 with bigger marketing campaigns and more effective funnels to our existing products and the addition of new features in 2021.
2021 is the "Year of XCM"
We are now proud to present our Q1 2021 Roadmap!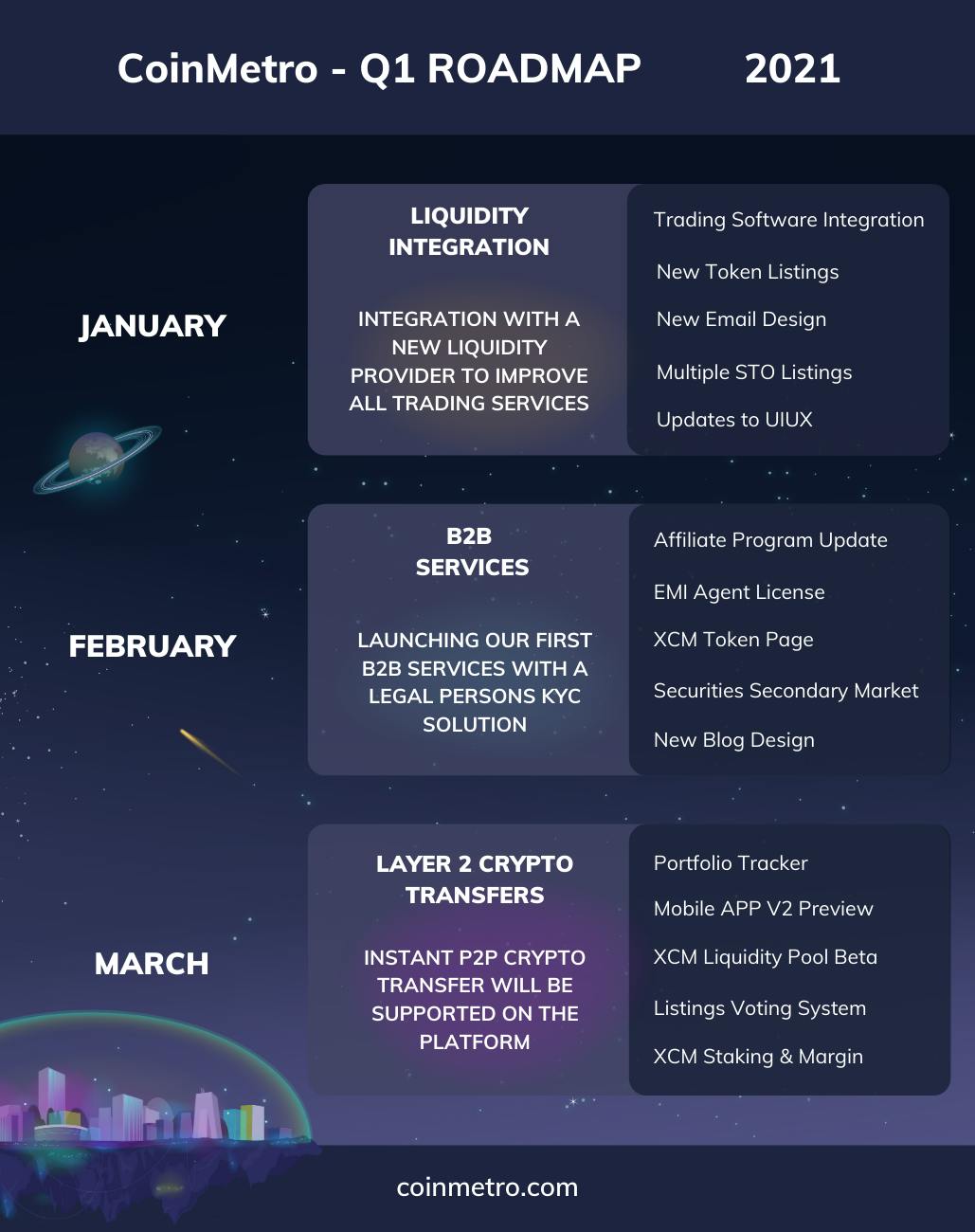 XCM Ecosystem Updates
CoinMetro's current investors have pledged huge support for shareholders and XCM holders to support token price and liquidity. We have a constant open dialogue with them, and they are excited to back the growth of the company, the community, and the XCM token in anyway they can.
This will extend our runway as well as provide us with the means to offer the community better rewards and higher value everywhere in the ecosystem.
XCM Staking will create the opportunity for passive income and will remove even more XCM from circulation with hard-locking. There will be multiple levels of XCM staking rewards available based our existing tiered system, with the hard-locked XCM being optionally available for use as collateral on the Margin Trading platform.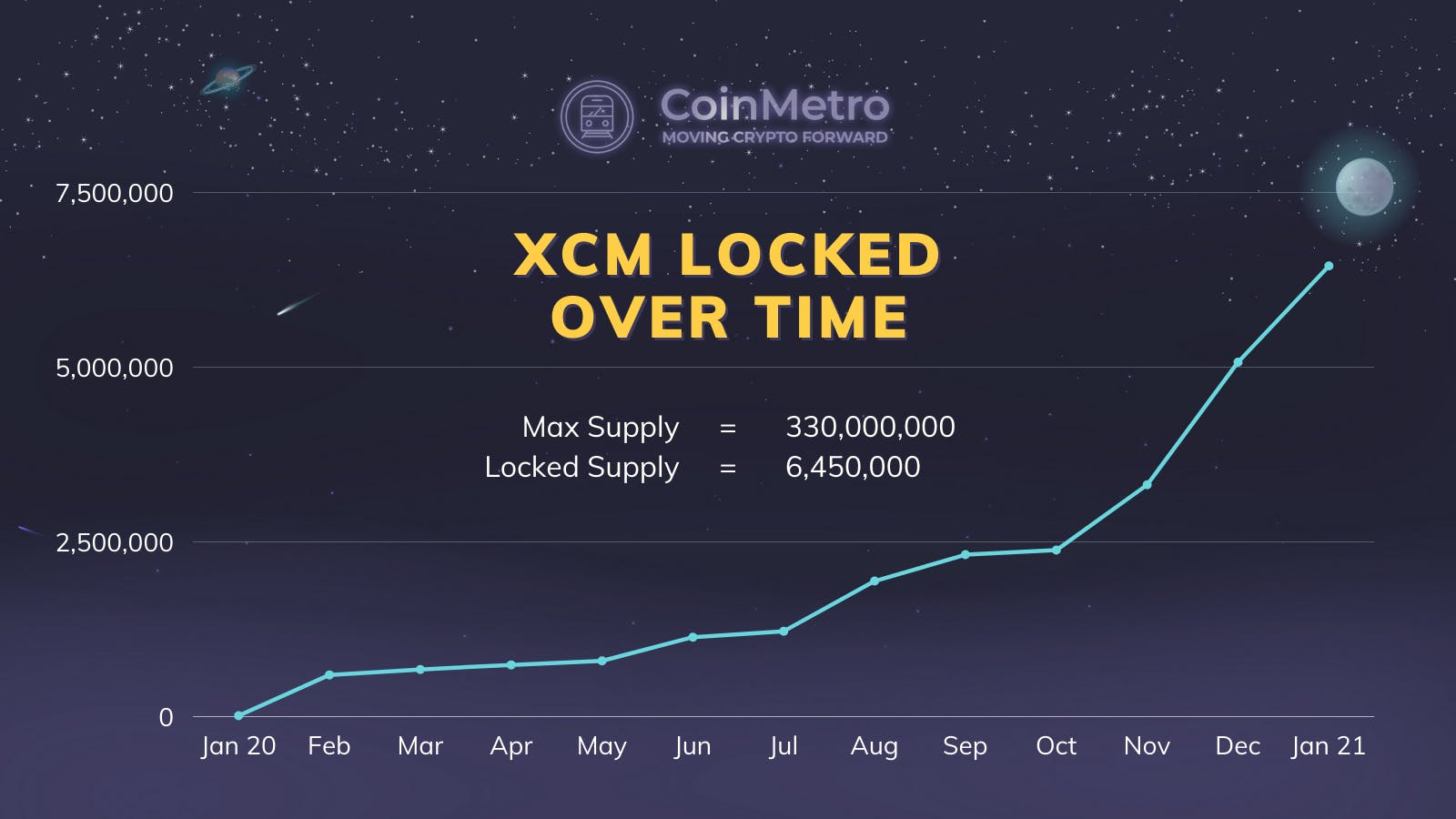 Over 5 million XCM is locked already!
Product
Firstly, we are addressing our users biggest pain point straight away, LIQUIDITY…the goal is to dramatically increase liquidity across all listed pairs. This will enable us to add more pairs to the Margin Trading platform. Users will benefit from tight spreads, resulting in minimal slippage and maximizing profit!
The platform as a whole will continue to be improved. CoinMetro is constantly gathering feedback and requests from our fantastic community, and actually working to integrate them into our products.
The designs of the emails & blogs are both getting a fresh overhaul, in line with our new brand identity. As requested, you can expect to see a new XCM token page on the website with a breakdown of our tokenomics. CoinMetro Affiliate Program will be completely restyled with our new design, this will help our active affiliates spread the word about CoinMetro, and earn some XCM. We have the best affiliate program in crypto, so we need a user interface and tools that do it justice.
Revenue
Revenue for Q1 is set to continue the hyperbolic rise CoinMetro saw in Q4 of 2020. In short, everything you see on the roadmap should have an impact on our revenue. Increased liquidity and adding new tokens to the margin platform will encourage current clients to increase their trading volume as well as attract new clients. The additional STO's all encourage more users to come to the platform as the projects carry out their own marketing to bring investors to CoinMetro Security Token Platform.
But more specifically, launching our first (of several) B2B service will have a more immediate, direct impact. This will include Legal Persons and individual persons KYC solutions. Both of which are new revenue streams for CoinMetro set to launch in Q1.
Listings Tokens and STOs
That's right… NEW LISTINGS ARE COMING! The second half of 2020 we were focused on building up the platform in other areas. But now we are shifting focus to bringing QUALITY projects for our clients at CoinMetro.

As you know, we can't spill the beans too early on the specific tokens, but we are in discussion with multiple companies already!

After we add a wave of new tokens we have already picked out, CoinMetro will launch a voting system for the community to have their say! You can expect to see this sometime in March. Voting will bring many new eyes to CoinMetro as token holders will sign up to vote on their favorite projects to help support them.

We are also very excited about TWO more STO's that will be launching on our innovative Digital Security Token Marketplace in January. This will provide exciting, diverse investment opportunities that retail investors rarely get the opportunity to be a part of. One of the companies is Encrypgen, a DNA data marketplace where you can sell your de-identified data to researchers, it is very exciting! The other project is a media company, we will be sharing more details about both in the coming days.

CoinMetro CEO, Kevin Murcko will continue with weekly Q&A's to keep you up to speed with all our progress.

Happy New Years to our growing community! ❤

Haven't signed up yet? — Open a CoinMetro Account

Follow the official CoinMetro Telegram community

0
Related Articles
Product update - June 2023
It's the beginning of summer, but we're not slowing down here at Coinmetro. We've got another exciting monthly Product Update for you. Let's dive…
What Are Altcoins? Exploring Alternative Cryptocurrencies
Altcoins encompass a vast collection of digital currencies that have emerged alongside Bitcoin, the pioneering cryptocurrency. While altcoins share…
Coinmetro's visual makeover: new look, new website, same platform you trust
Since day one, we have been driven by a single vision - to make the world of finance accessible and transparent for people globally. Thousands of you…
Major APR Increase for FLUX Staking
More good news is on the way! Starting from May 1, 2023, you can enjoy increased APR for staking FLUX at Coinmetro. At the moment, Flux is one of the…