Back
Hathor Network on CoinMetro
17.04.2021
Hathor is now officially listed on CoinMetro! HTR deposits & withdrawals are open and the HTR/EUR trading pair is now LIVE. This is the only HTR fiat pairing in the world. We're aiming to be THE go-to fiat exchange for all traders, miners & clients of the Hathor Network!
HATHOR LAUNCH SPECIAL: Right now you'll receive €5 when you create an account on CoinMetro using the link provided! Simply deposit €50 and reach €250 trade volume by 1st May – http://go.coinmetro.com/promo/hathor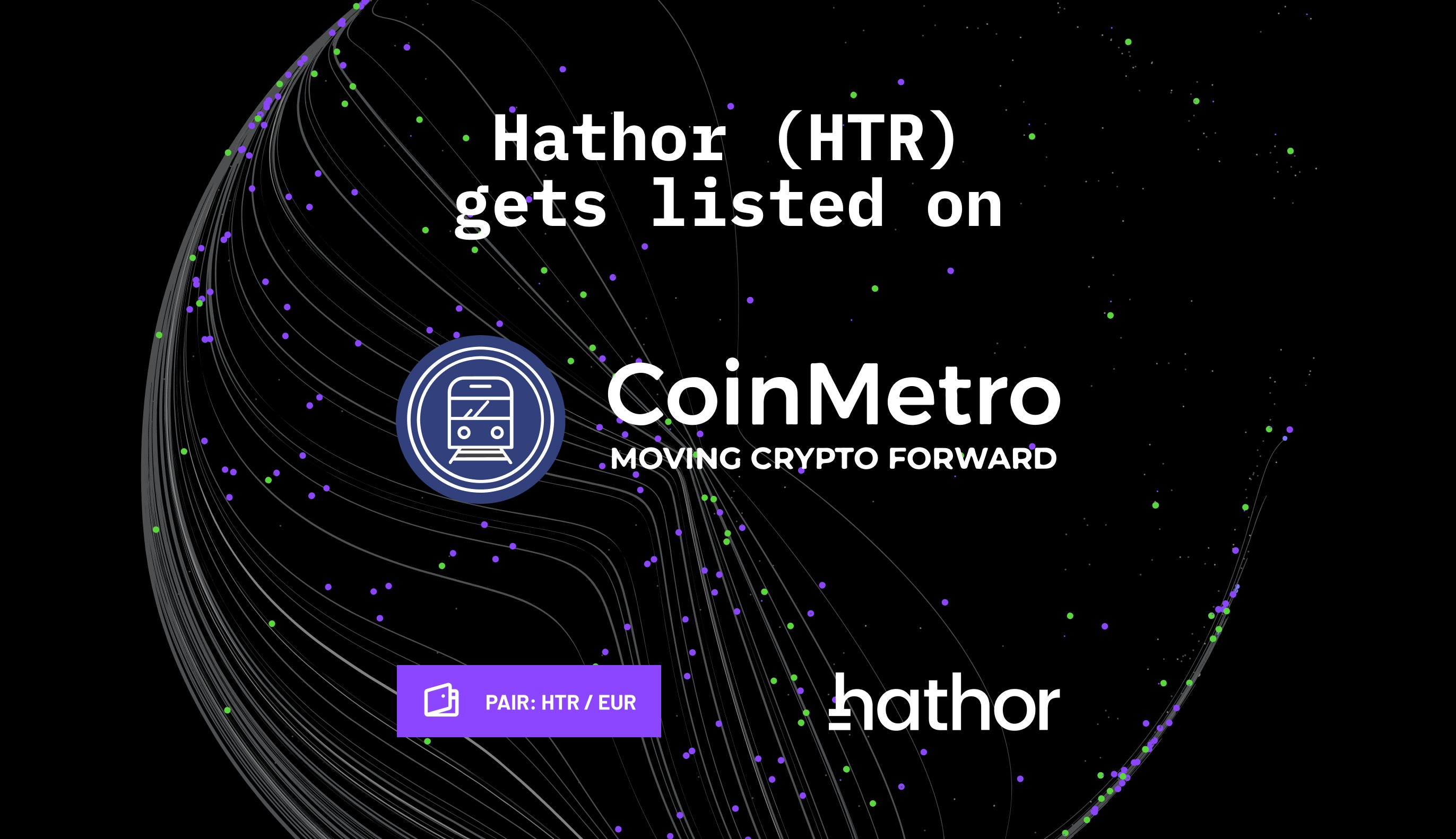 What is the Hathor Network?
The Hathor Network is a natural evolution from the Bitcoin Blockchain. It's uniquely designed to get rid of the significant bottlenecks preventing widespread adoption of blockchain technology. Scalability, usability, & decentralization are the core foundations on which the network is built.
Hathor is a permissionless network on which anyone can build decentralized apps & platforms. This is somewhat comparable to the likes of Ethereum & Polkadot, but they do not consider themselves to be competitors. Hathor believes interoperability is key pushing the crypto industry forward.
The Hathor Network has made the process of creating a token so easy, absolutely anyone could do it! There's no knowledge of "ERC-20", "gas", or "solidity" is required at all.
Using the same Proof-of-Work (PoW) process as bitcoin, miners are able to mine both HTR & BTC (and the others on that same algorithm). This also means the Hathor Network piggybacks on the strength & security of the bitcoin infrastructure!
HTR Tokenomics Explained
Miners are rewarded for keeping the blockchain going, as with any PoW system. On the Hathor Network, this reward is paid in their native token, HTR. The network takes advantage of merged mining as well. This means bitcoin can be mined at the same time with any additional cost. 
Hathor implements yearly halvings as a means of countering inflation. Additionally, in order to create your own token on the network, one HTR must be locked per 100 custom coins. As a result, the circulating supply is reduced for every single new project on the Hathor Network!
On top of all that… the transaction cost is 0.00.
You can find more Hathor Token Economics here.
Next Tuesday 20th of April 2PM UTC:

Join us for an AMA session with @_obiyankenobi (@HathorNetwork CEO) and @coinmetro_kevin (@CoinMetro CEO) on our Youtube channel!

You can set a reminder for the event here 👇https://t.co/32pqxaMRKU pic.twitter.com/iUG0xkFnNA

— Hathor Network (@HathorNetwork) April 15, 2021
Time to start trading on CoinMetro!
CoinMetro is starting off with HTR/EUR, and currently only limit orders are available. Withdrawals & deposits are open as we speak, and you can use Instant SEPA & card payments for fiat deposits. Moreover, the simple swap widget on the CoinMetro dashboard makes for easy access to HTR.
But we're only just getting started with our friends at Hathor! Traders will enjoy increased liquidity on the HTR/EUR trading pair within a week.
Plus, the world's first HTR/USD pair will be coming soon, which can be funded with Instant ACH & wire transfers. And then of course more trading pairs will come beyond that, including HTR/BTC.
---
Remember, create a verified account on CoinMetro right now and you'll get €5 worth of HTR with the Hathor Launch Special! If you have any other questions about the Hathor Network on CoinMetro, contact our 24/7 LIVE support team. Or join us in our amazing Telegram community.